Laura and the team from Tarkine Fresh Oysters welcomed Head Chef Bikash, Chef Lalit, and Duty Manager Steph from Tall Timbers earlier this month.
To truly appreciate the extensive work that goes into the beautiful oysters we present to guests in the Kauri Bistro, we were given a behind-the-scenes tour and tasting.
"...a huge amount of knowledge, planning, and manual handling is involved throughout the whole process"
In an extended gesture of generosity, Laura has enabled us to share some of this tour with you all. Please enjoy this look into the efforts of one of our amazing produce partners.
01. & 02. Holding tanks
Trays of Buffet oysters which are 60-70mm in size or standards which are 70mm-85mm in size. Counted 6 dozen to a tray, the holding tank usually holds between 600-700 oysters ready for sale. They are temperature controlled, bio-filtered and UV treated. Our oysters take 2-3 yrs to reach that size, depending on the temperature and food available out on our oyster leases.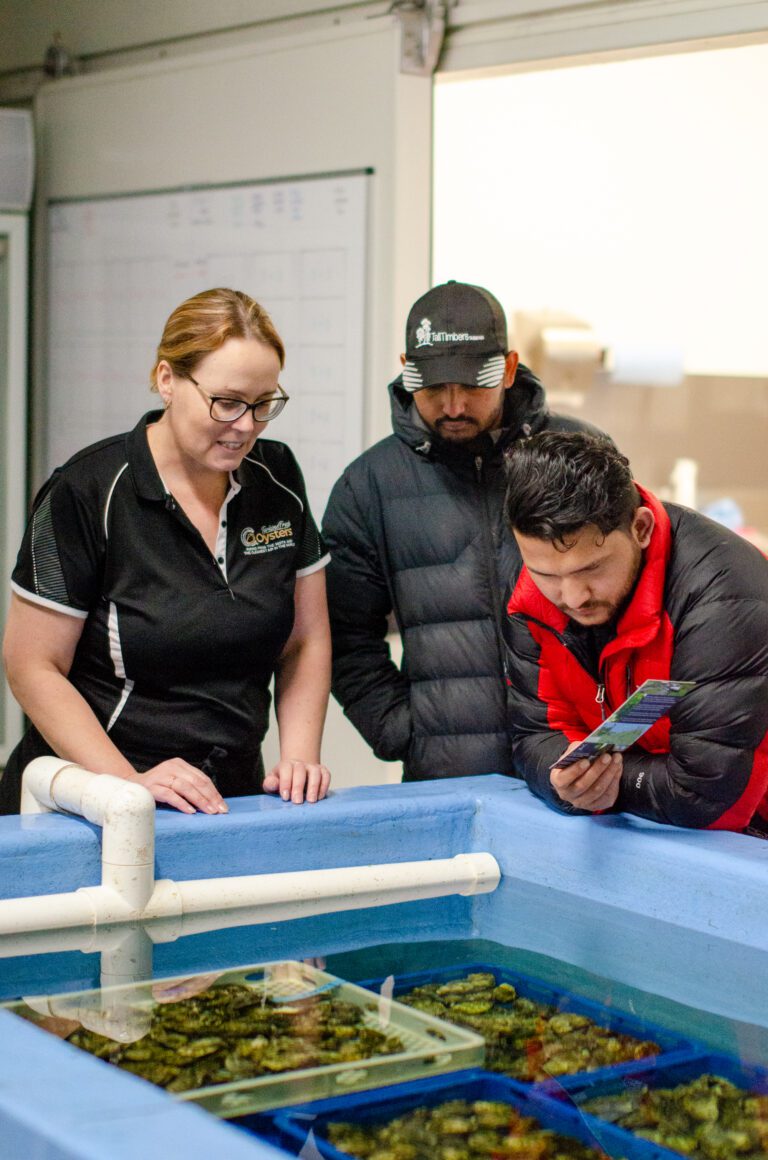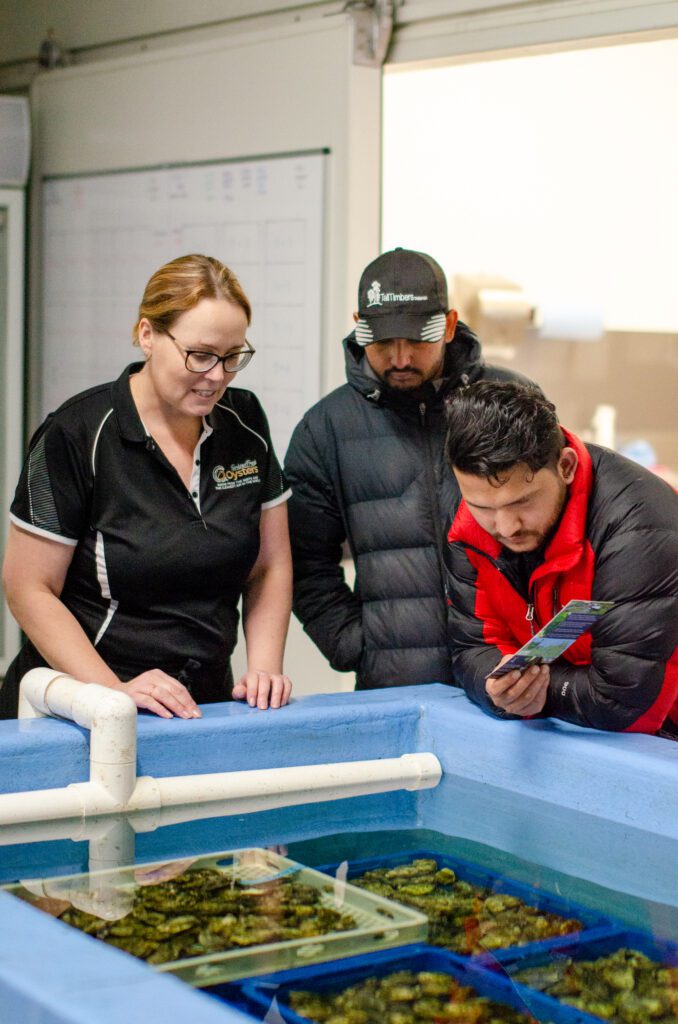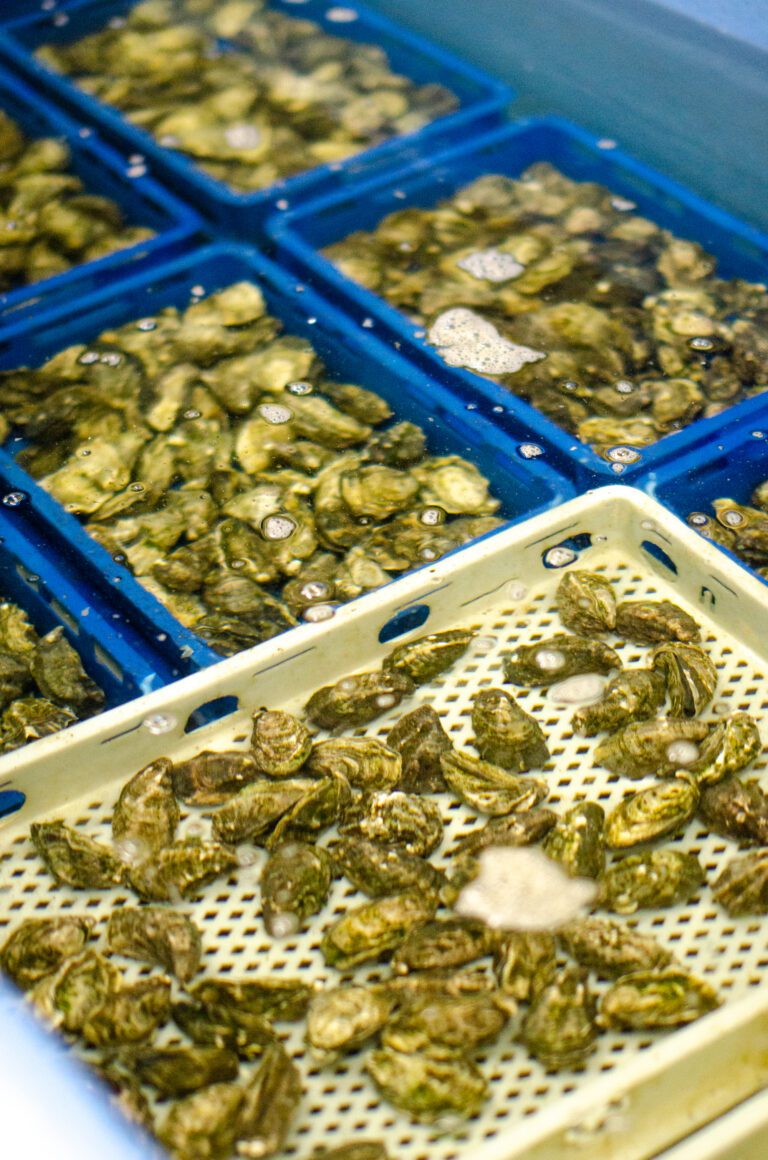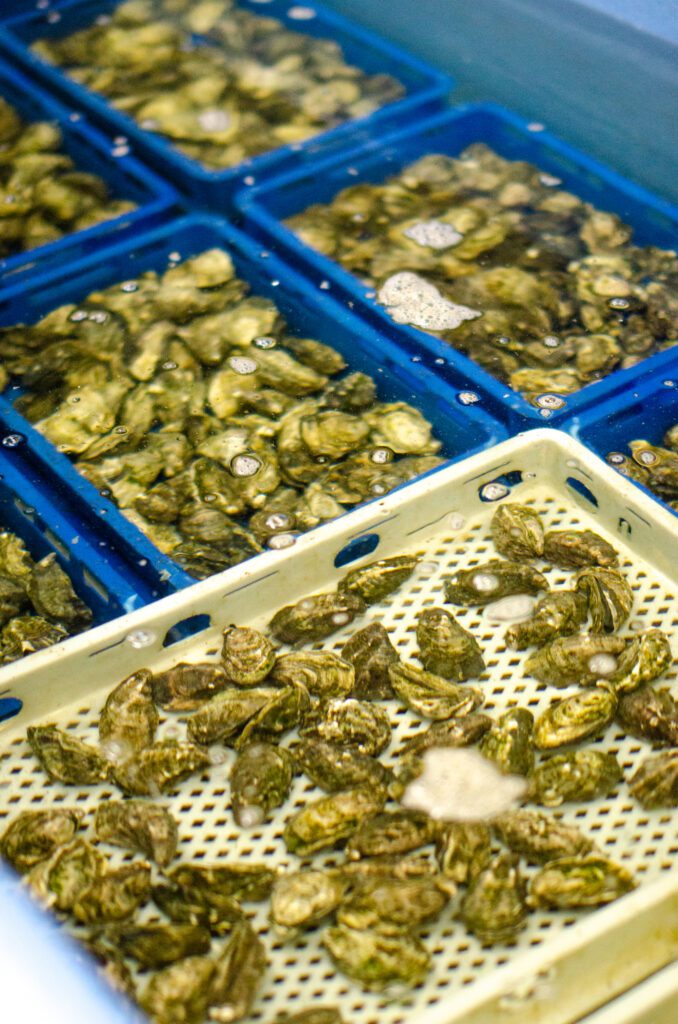 "It's always rewarding to supply a restaurant and have them showcase our oysters on their menu to the highest standard, as Tall Timbers does."
Laura Poke
Tarkine Fresh Oysters
03. & 04. Tarkine Taster
Bikash, Lalit, and Steph were treated to a Tarkine Taster. Showcasing the quality oysters in numerous variations, the platter includes garlic parmesan panko, bacon with sweet chilli sauce, tomato salsa with raspberry vinegar, and mornay.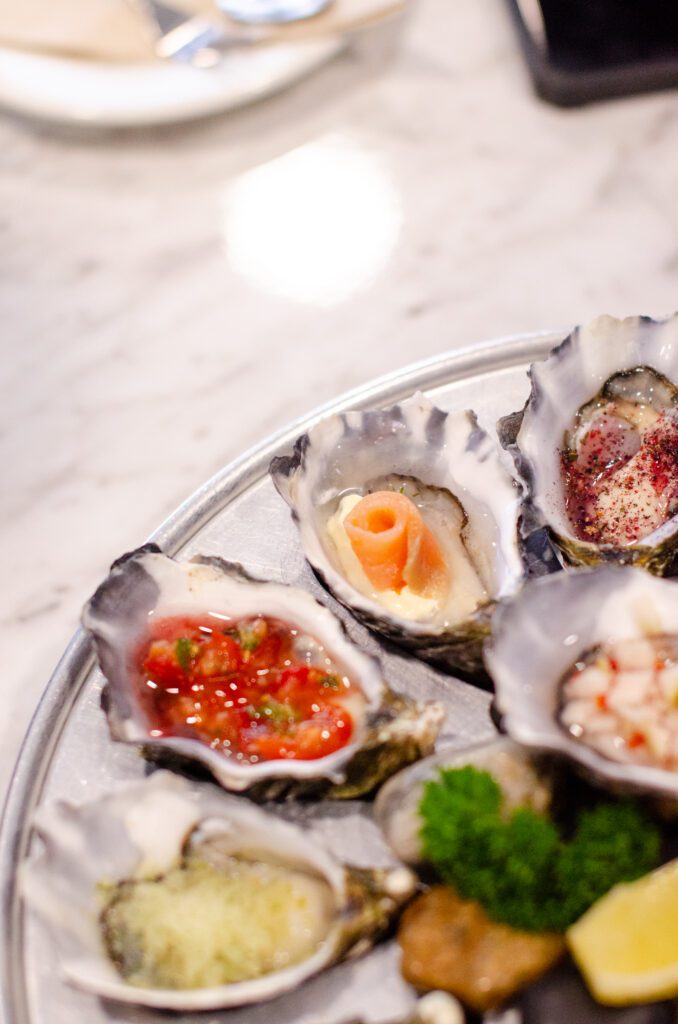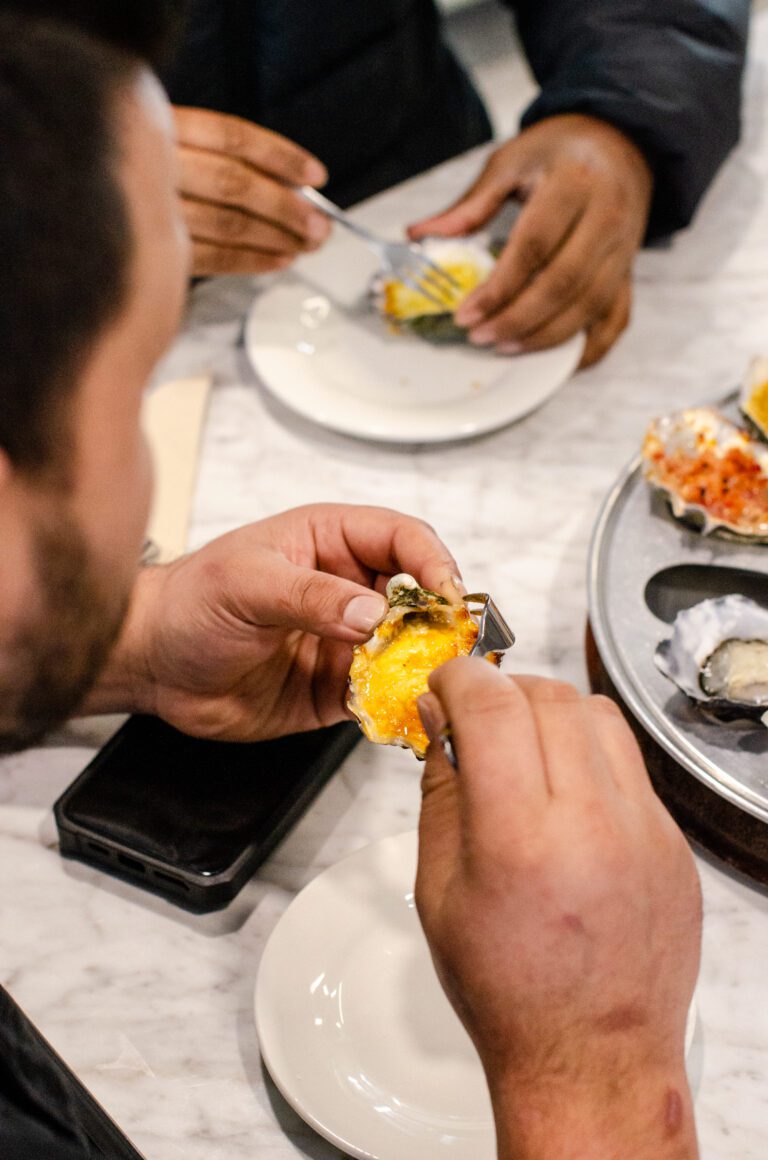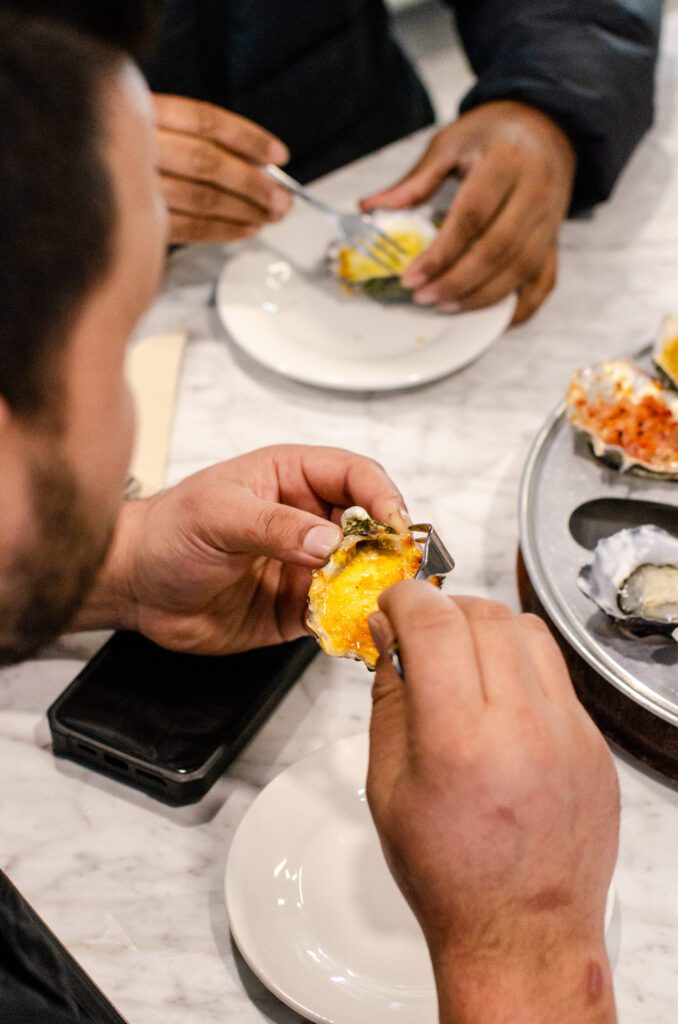 05. Alex tagged in to lead the tour
Alex Enniss is a member of the Smithton farm crew. Has been here for many years, but has just recently moved on to other employment. Here he is explaining what the various sheds are used for.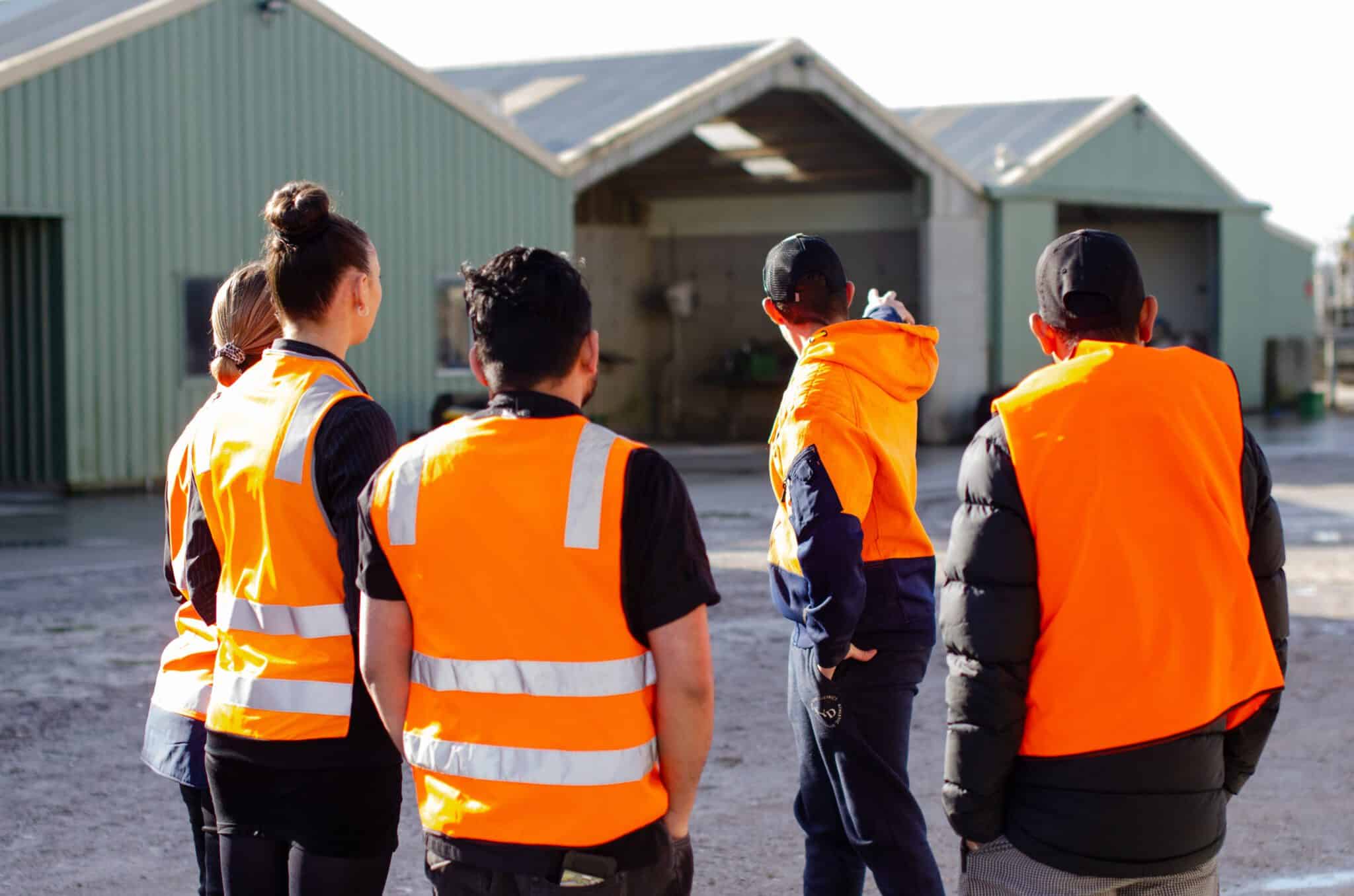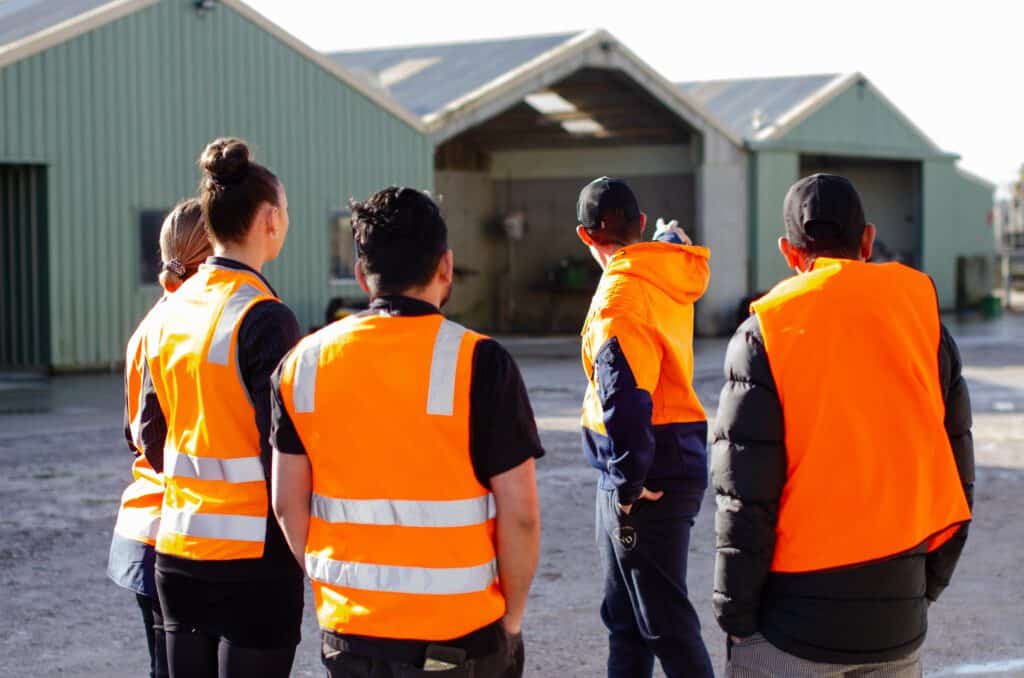 06. Wader room
The newest shed whish was built 2-3 years ago. This is used to sort and pack the large oyster orders in, with a big coolroom that can hold them until sale.
07. Wader room
The wader room is over on the farm side. It was built 2-3 years ago with the addition of heating, so the crew has more room to hang their wet waders up to dry and for them to warm up a bit after returning wet and cold from the water.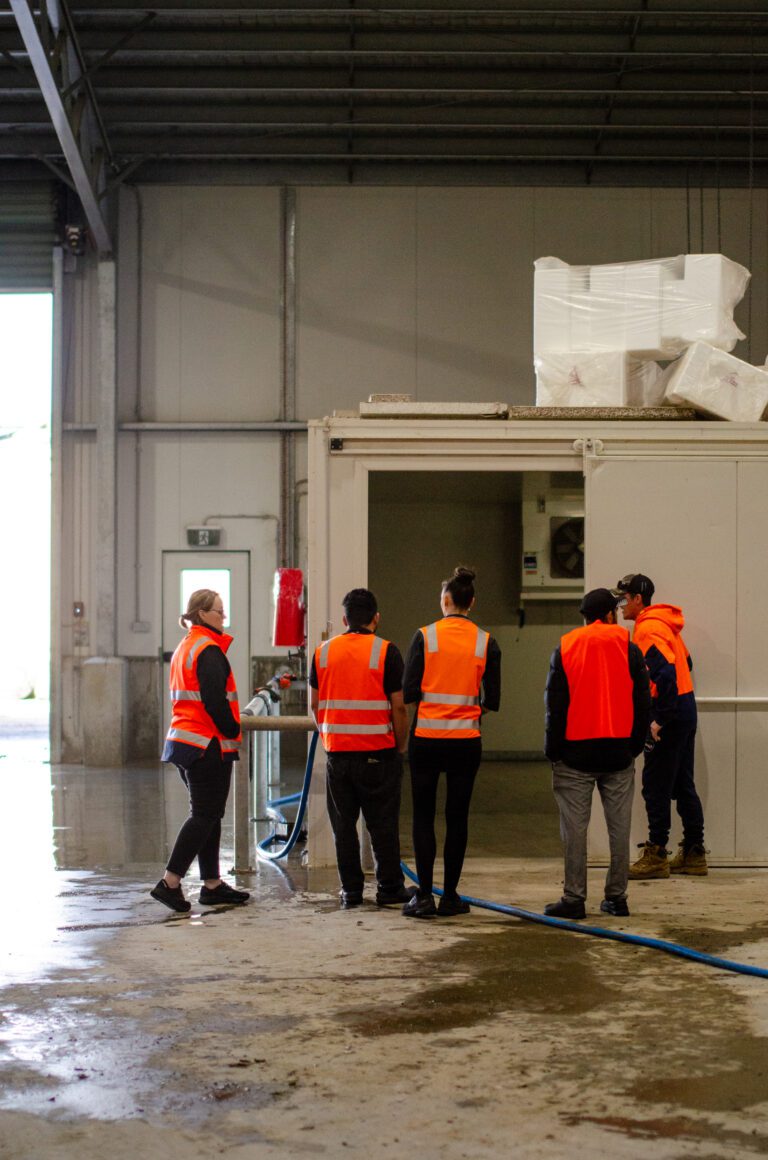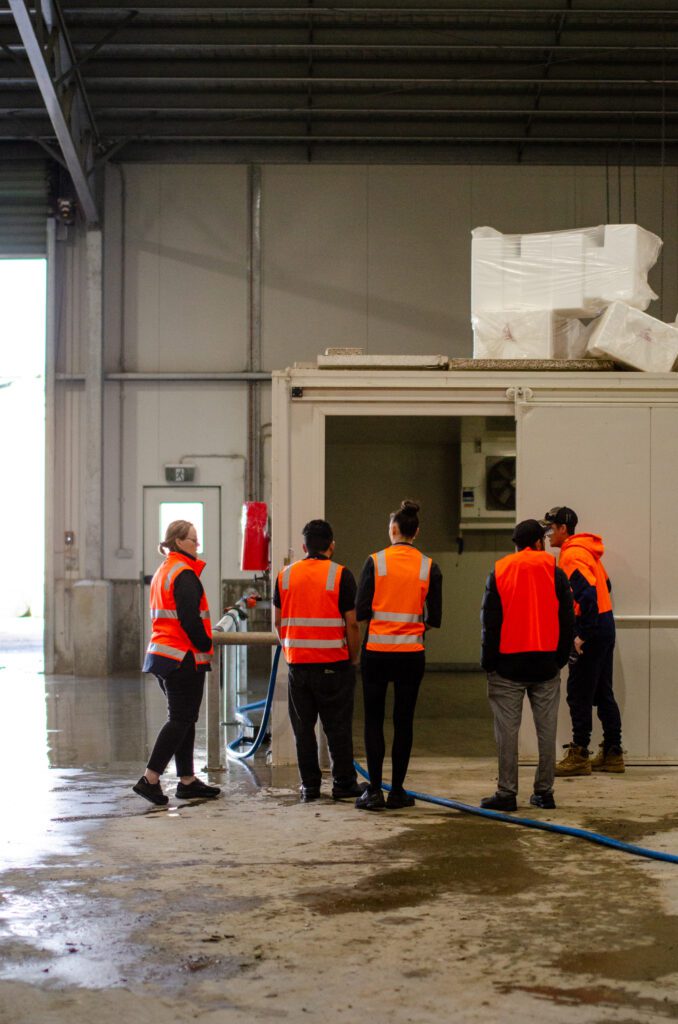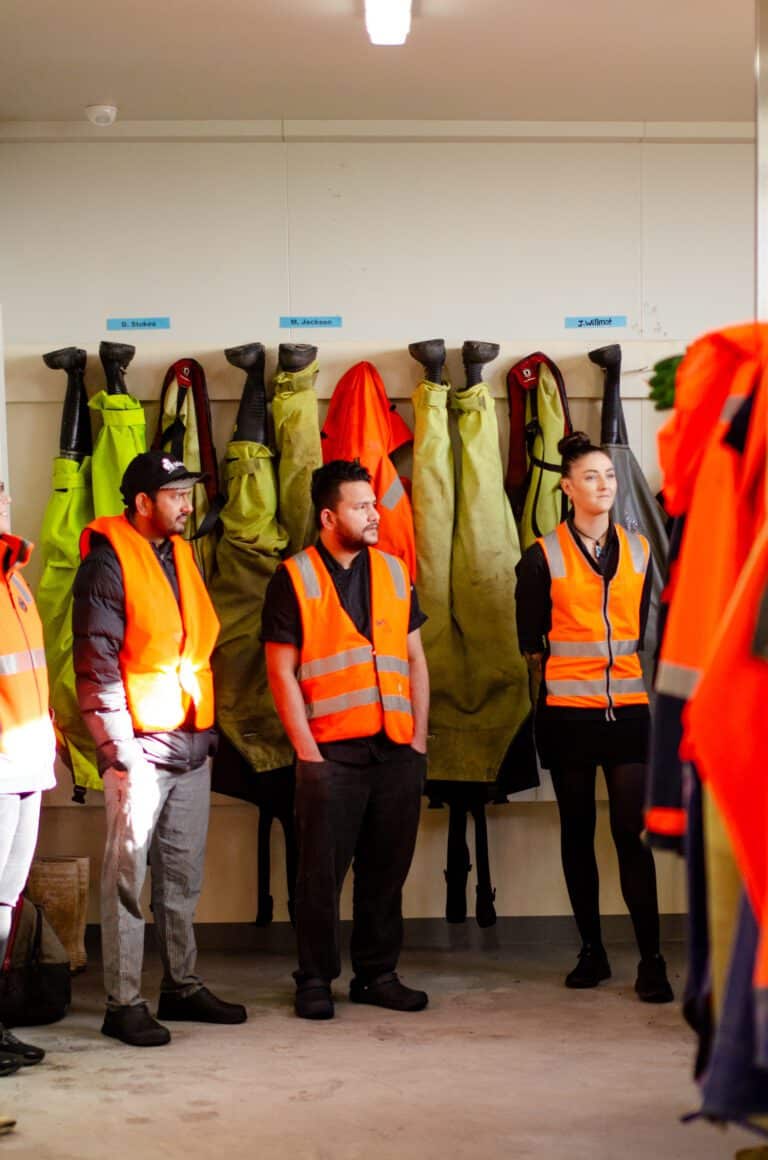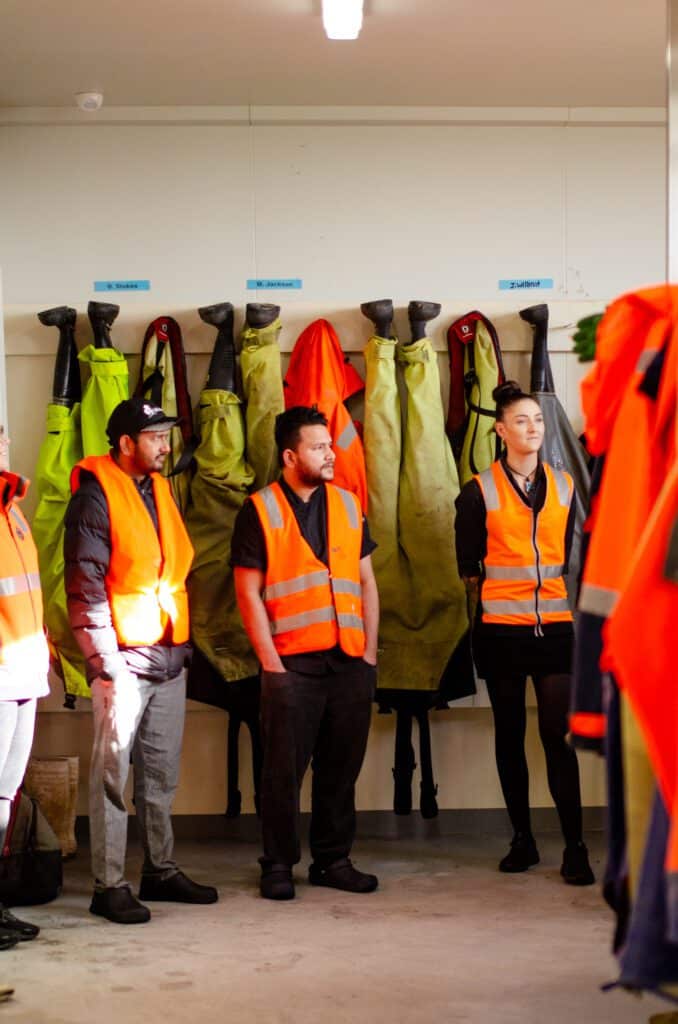 08. Wooden trays
Alex explained the wooden trays used to hold the 'baby' oysters after being moved on from the "purse" baskets. The trays need to be tightly strapped closed to stop the little guys from escaping and being washed away into open water.
09. Baskets/racks
Three different basket/rack setups that are used to hold the oysters out on the lease. Those pictured on the left attach to racks by poles passed through 3 baskets. The others are sepa that are held by clipping onto a rope line. Those on the ground are mesh trays.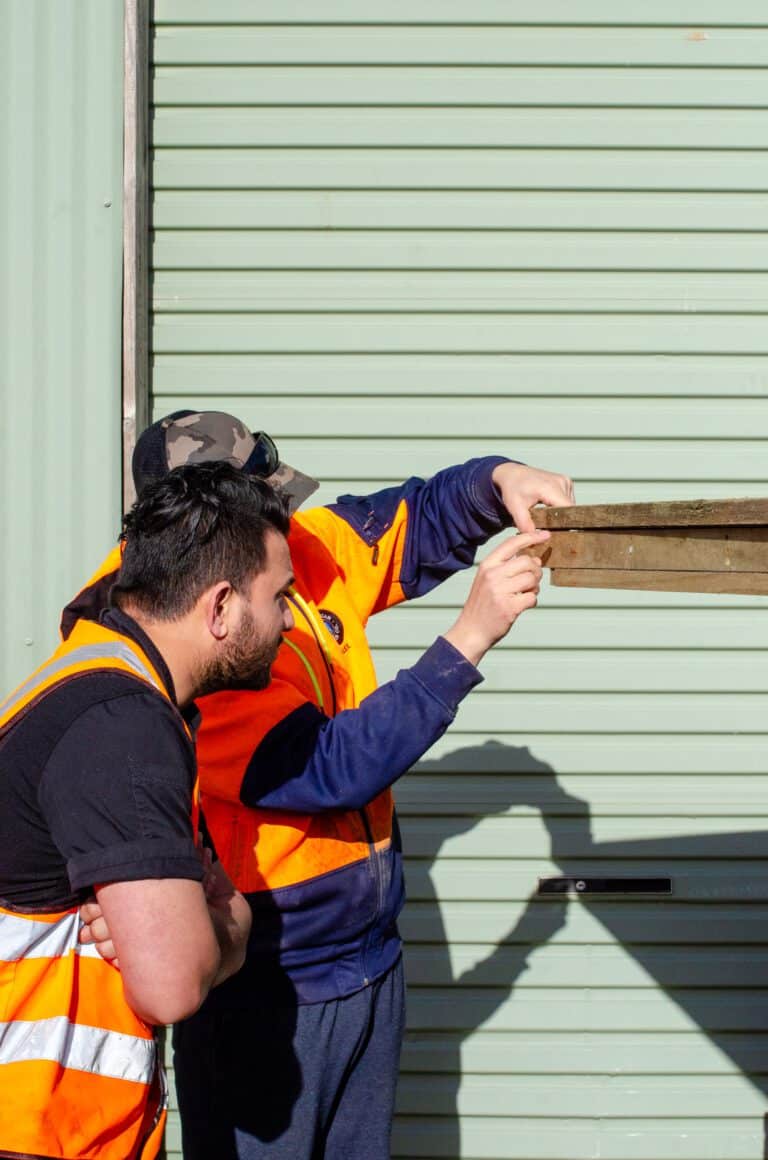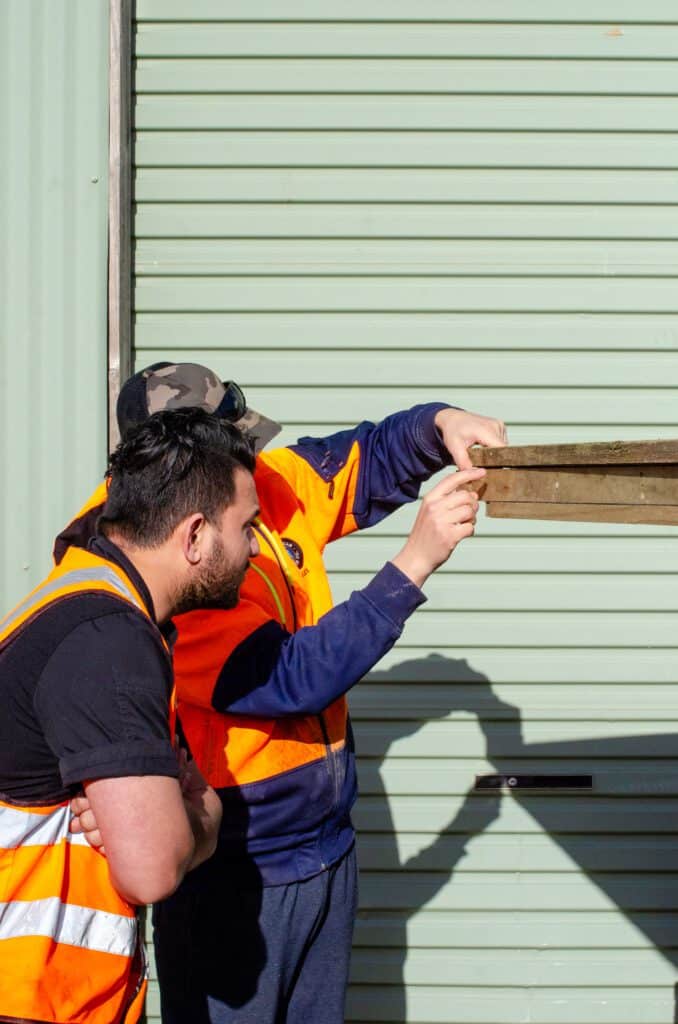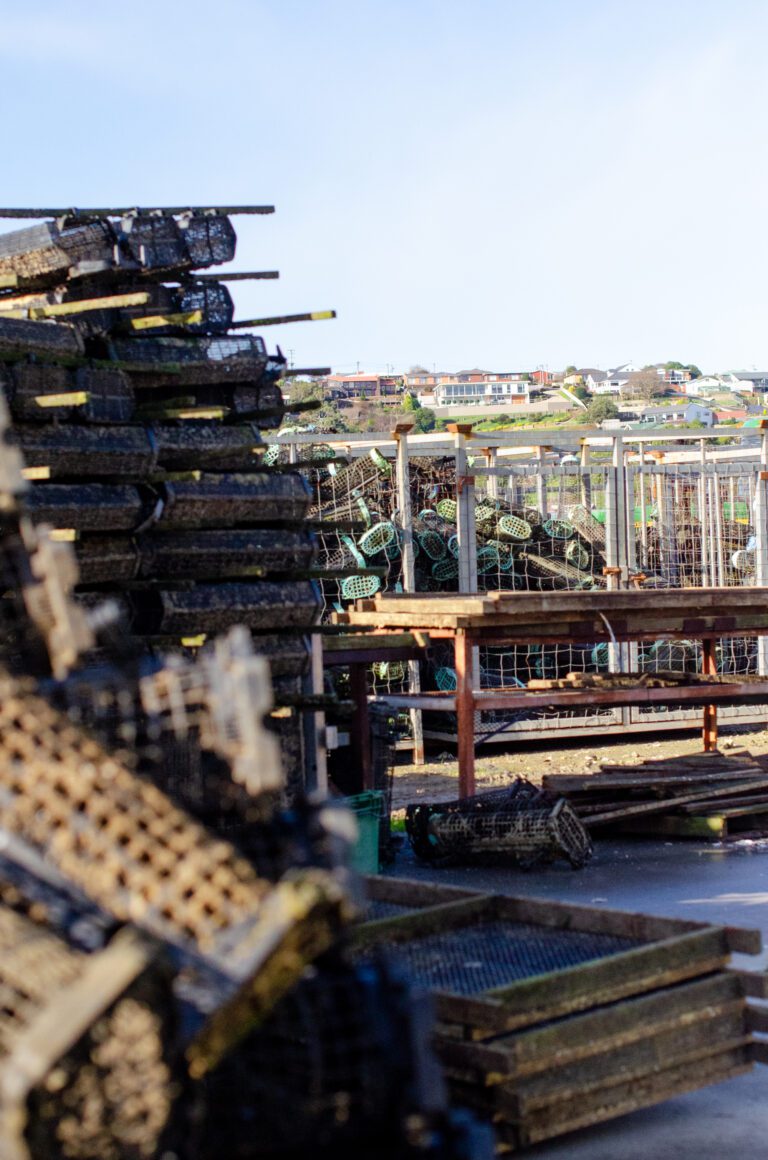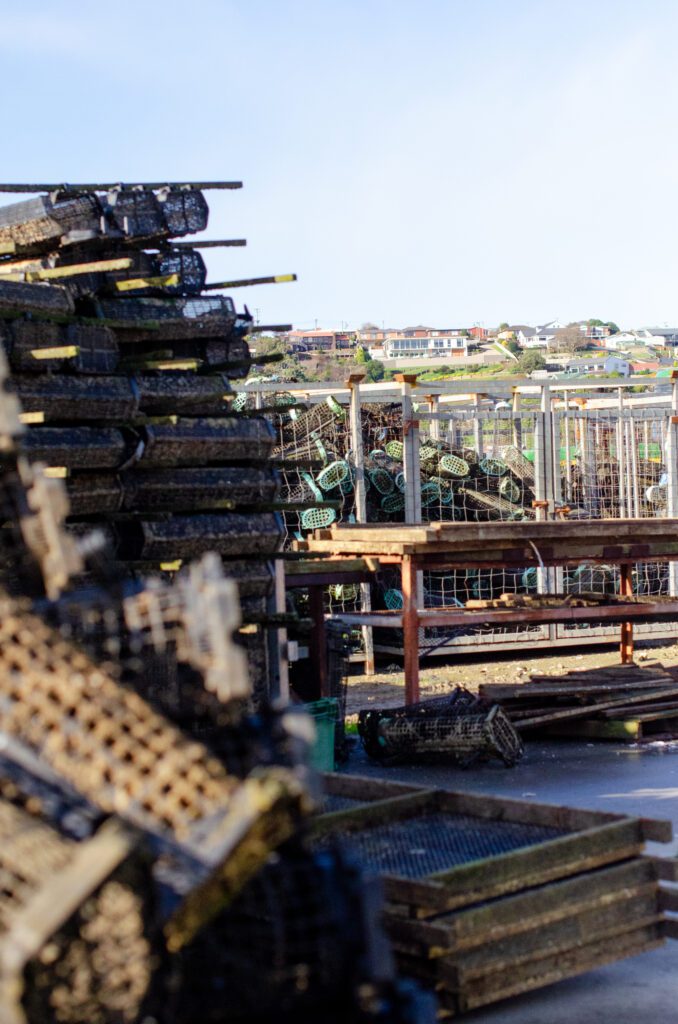 10. Vessels
2 of the 6 vessels used to go back and forwards from the onshore farm to the 6 different leases in Duck Bay, Perkins Channel, and Montagu. We now have over 30 million oysters in different stages of growth out on the leases.
11. Vessel 2
This is another vessel that is designed especially to make it easier to load and unload the baskets in and out of the water and to hold the crew members safely.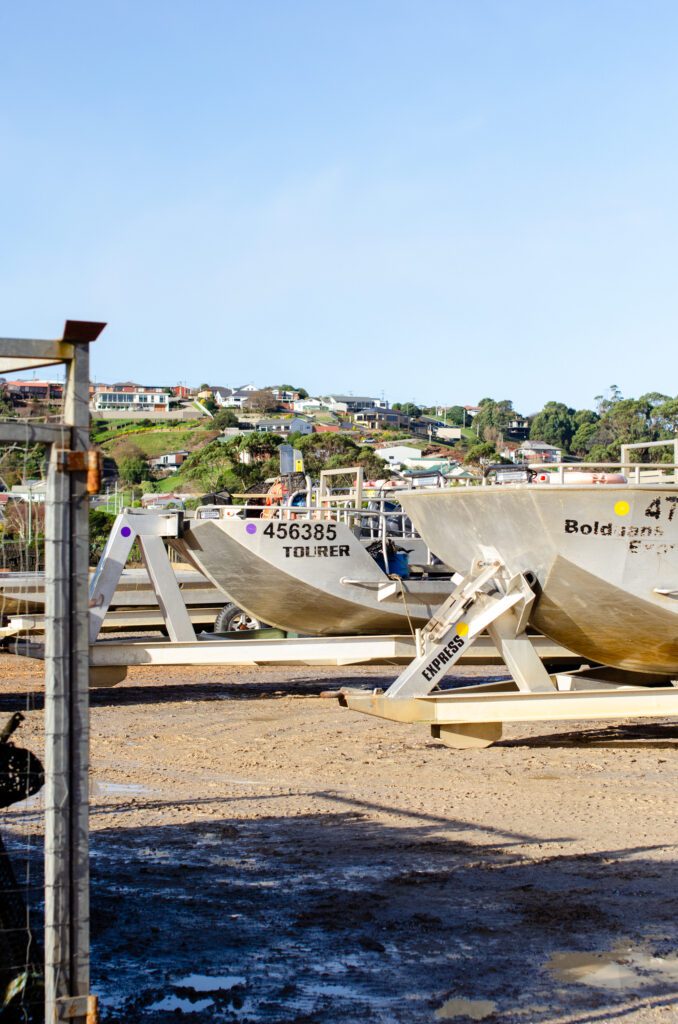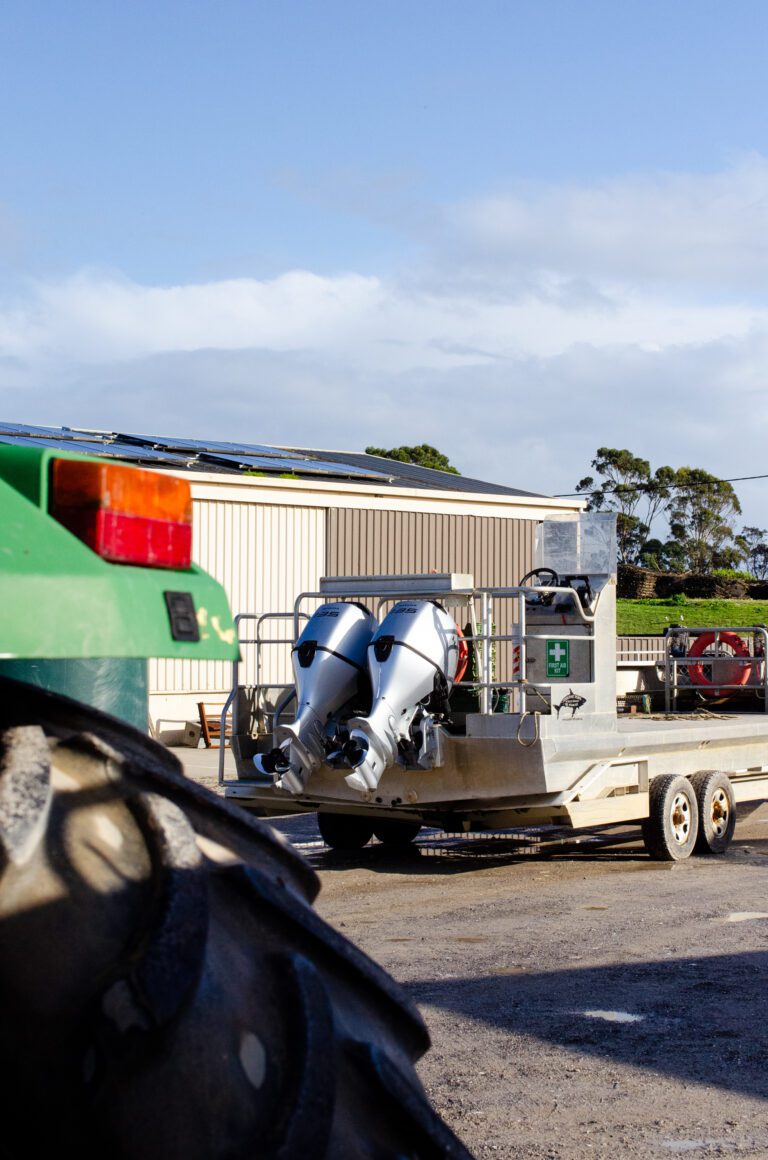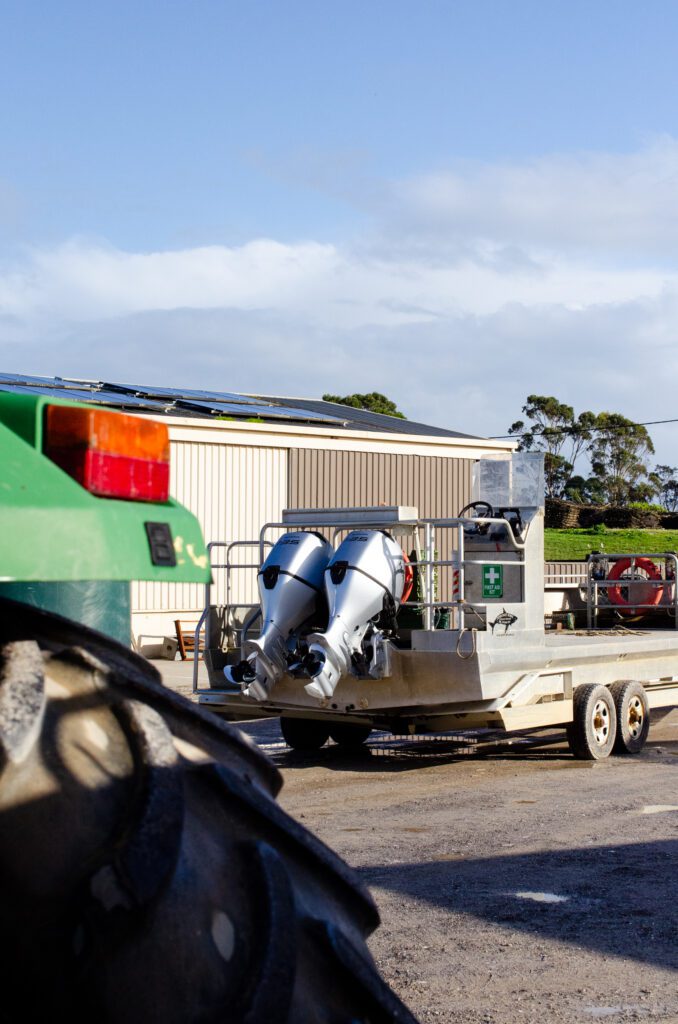 12. White water containers
White water containers collect water from out in the bay, which is then stored in tanks ready to use in the holding or depuration tanks.
It's filtered through a variety of different filters, UV treated and temperature controlled. Water and oysters are lab tested at various times, with samples being sent to Hobart.
13. Purse-shaped baskets
Alex explained the use of the purse-shaped baskets, which are used to hold the tiny seed oysters before moving on to the wooden trays once they've grown a bit.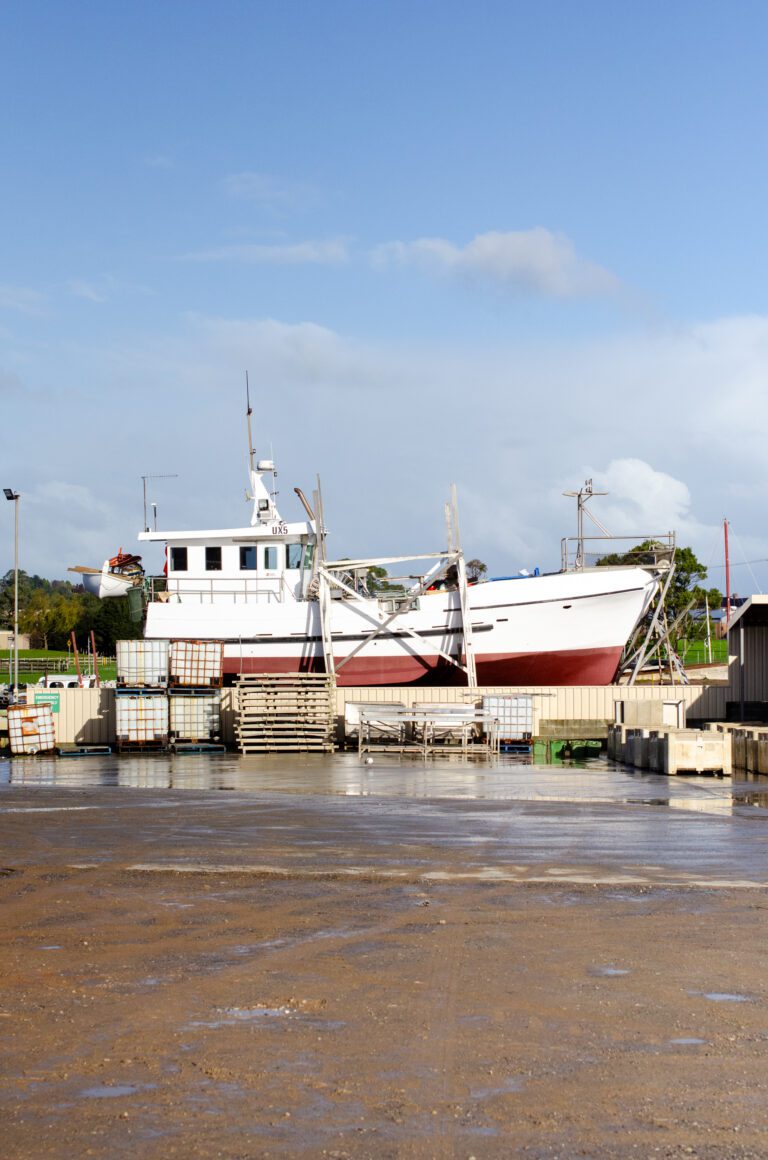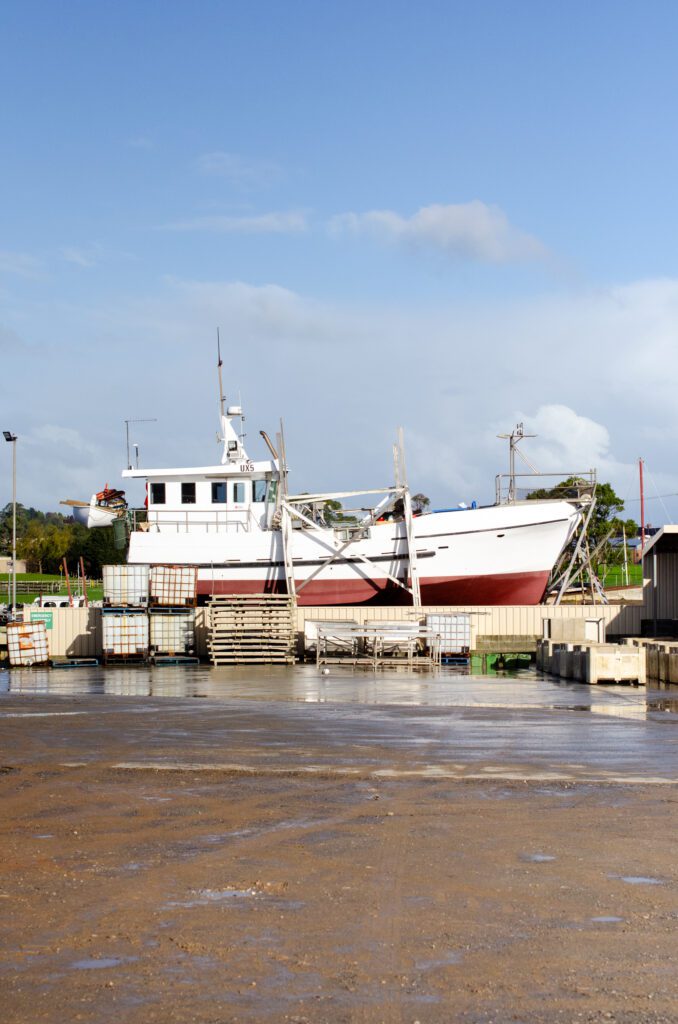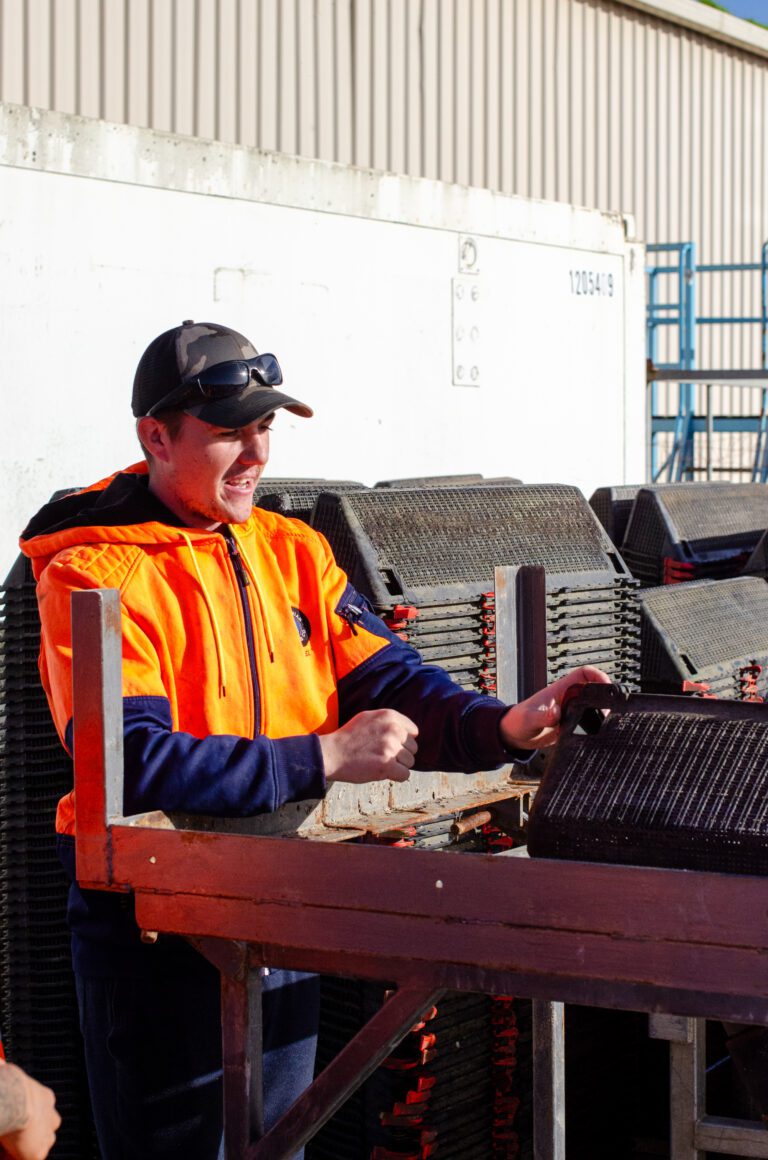 14. SED grading machine
The machine was built in Wynyard to our founder Jon Poke's design and input. It was the first of its kind and is now sold everywhere.
Using a camera to measure each oyster as it passes by, they are graded into their different sizes and sent to different chutes. The machine can grade up to 1000 oysters an hour.
15. Depuration tanks
Alex explained the depuration tanks, which are designed to filter out any impurities from the oysters while waiting for test results to come back from the lab.
The tanks are temperature-controlled, filtered, and UV treated.
Both the holding and depuration tanks were designed and made onsite starting with 1, now we have 5.
The depuration tanks were the first tanks of their kind in Tasmania.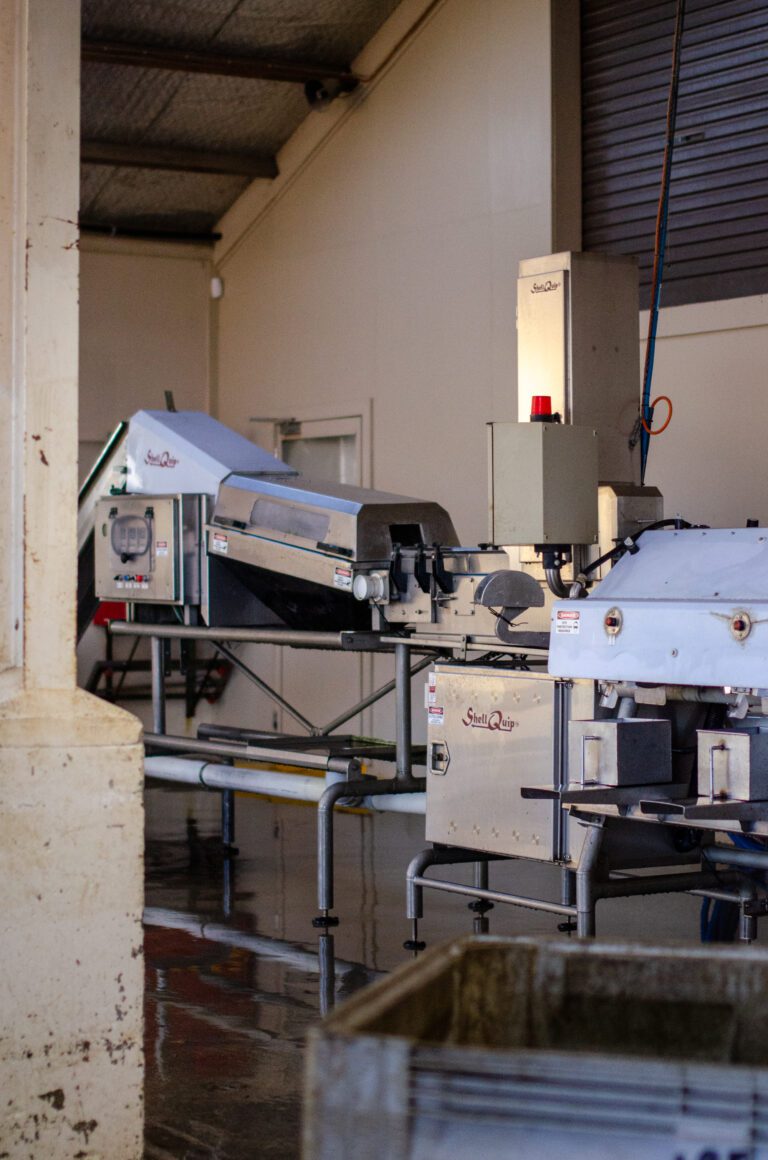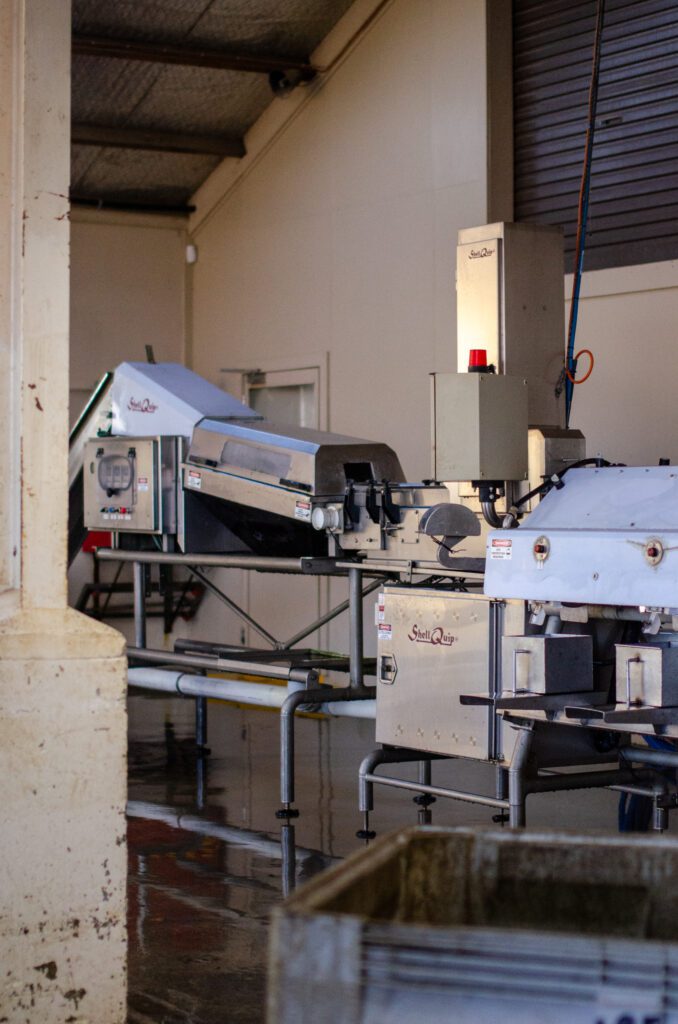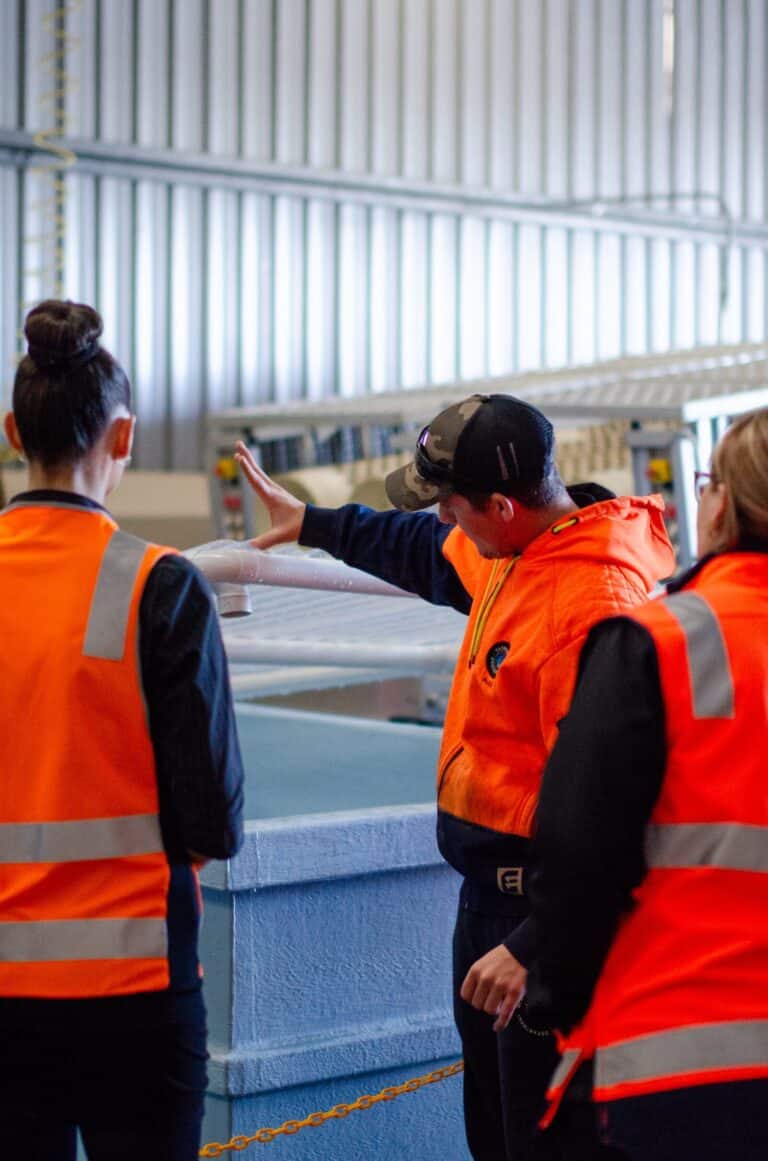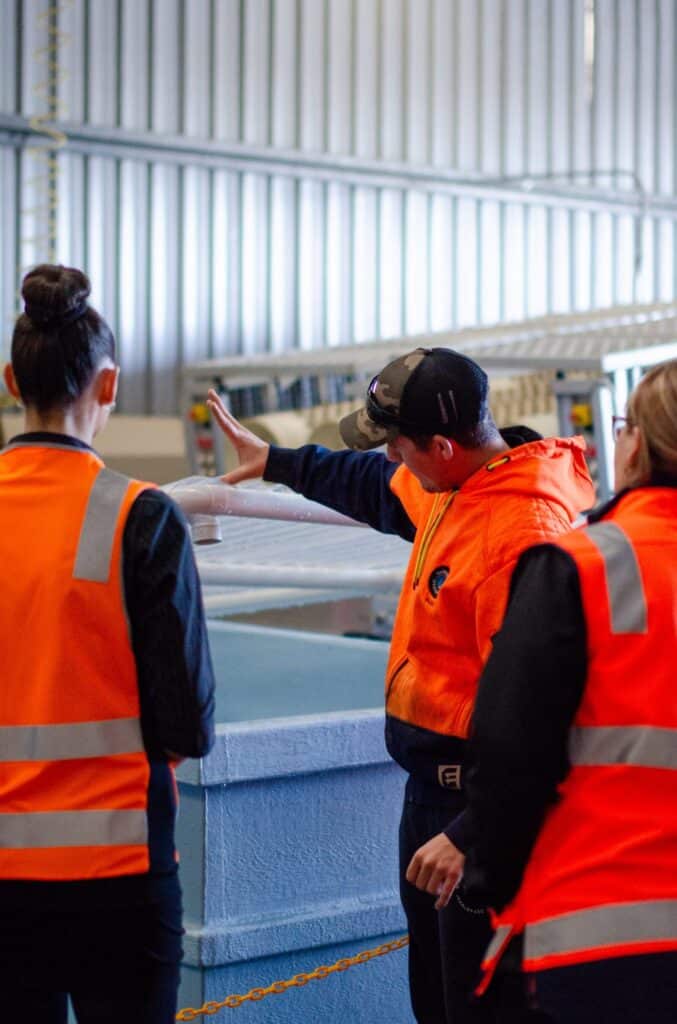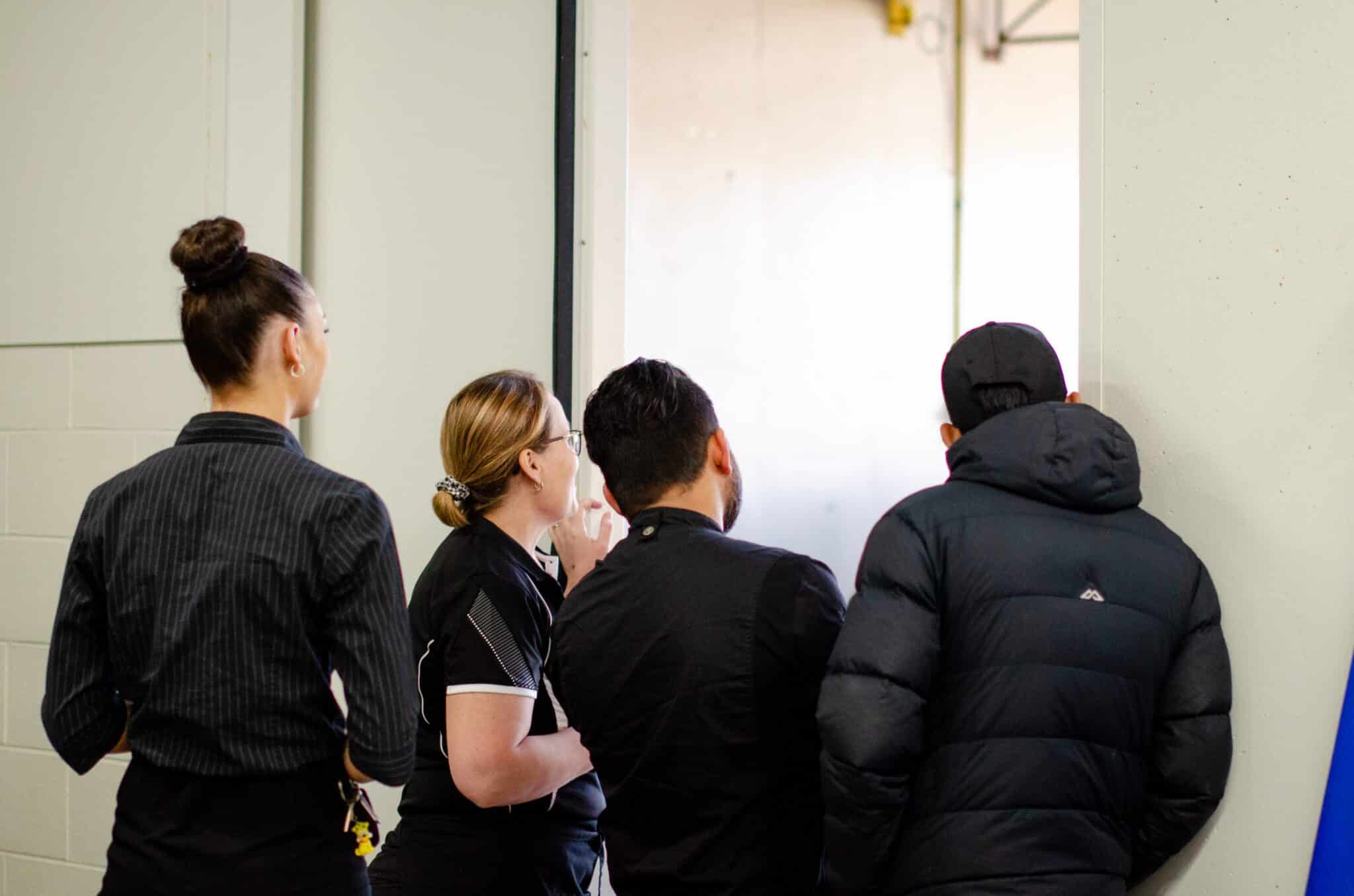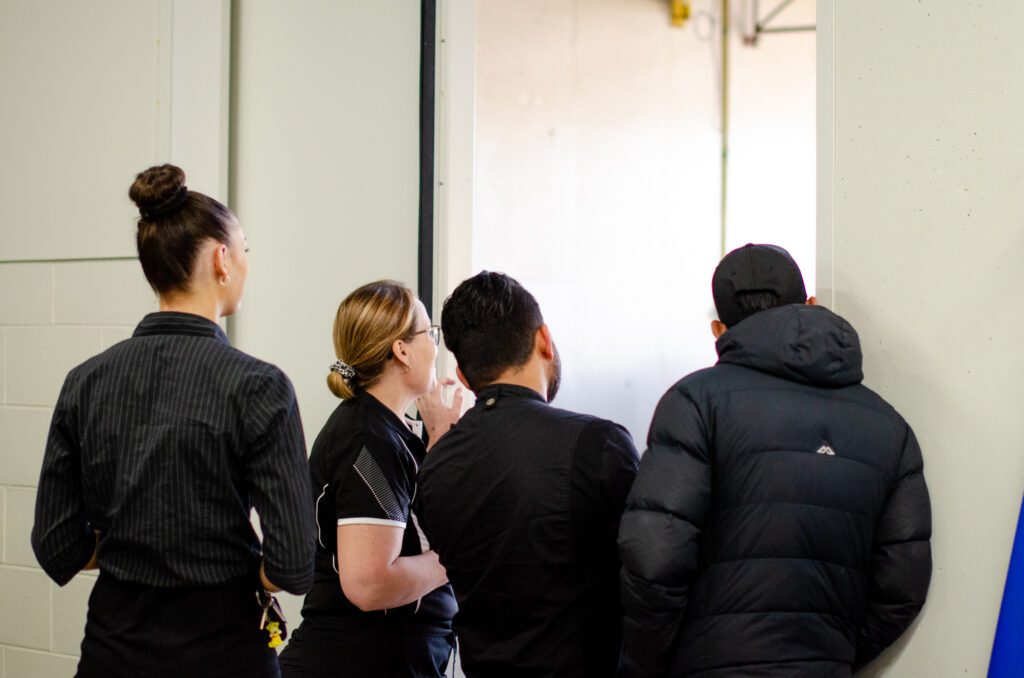 "We enjoy showing people through from businesses we supply, as it gives everyone a better understanding of the whole process involved from start to finish in getting our oysters to size and of high quality ready for sale. This information they can then pass on to their staff, customers, or patrons. People are often very surprised to hear the oysters are brought in from the lease to the onshore farm every few months, where they are graded and rearranged in their growing baskets and then taken back out to the lease. This happens continually until they are 2-3 years old and ready for sale. So a huge amount of knowledge, planning, and manual handling is involved throughout the whole process."
Laura Poke
Tarkine Fresh Oysters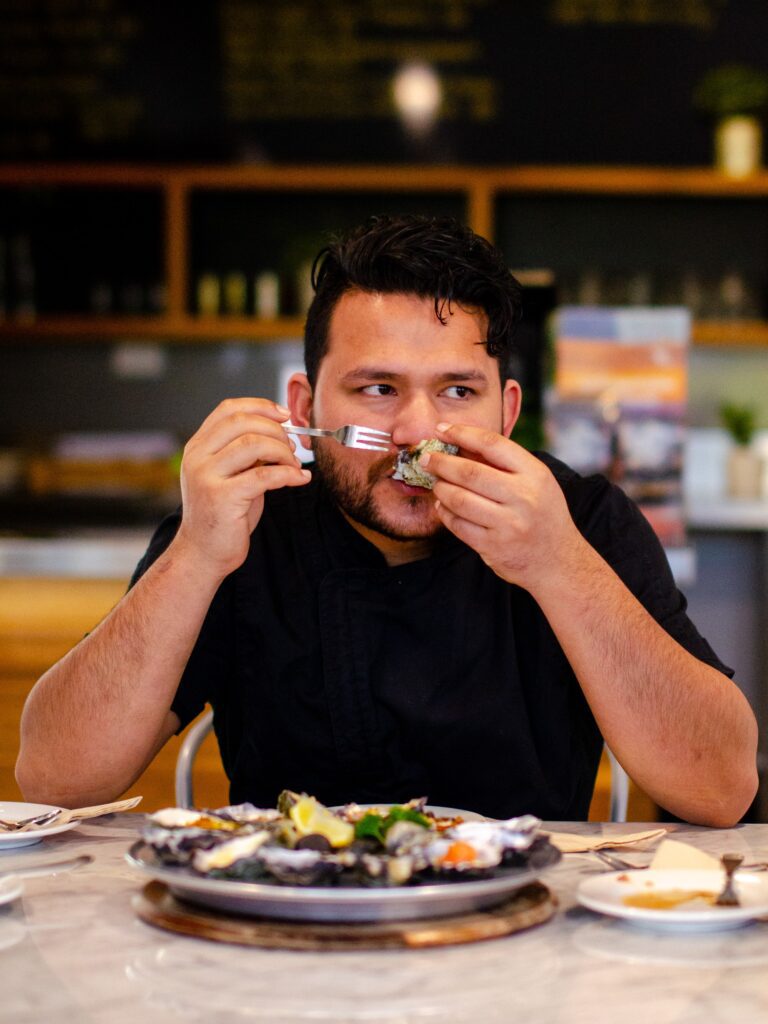 Tall Timbers Head Chef, Bikash is appreciative of the experience. He expressed "I was very happy to visit our own supplier of oyster and their farm.
"I got a chance to know about their history, how they started with a very small farm to a huge farm now.
"It's better to experience something once in a lifetime than hear about it multiple times, and I experienced it."
"It's better to experience something once in a lifetime than hear about it multiple times, and I experienced it"
Tall Timbers is so grateful to be surrounded by such incredible regional produce. Working with producers who take pride in what they do is something we deeply value.
Thank you so much to Tarkine Fresh Oysters, and Laura and Alex for their generosity.