Tall Timbers is a proud supporter of our community. This week, we look forward to two events that will bring many together.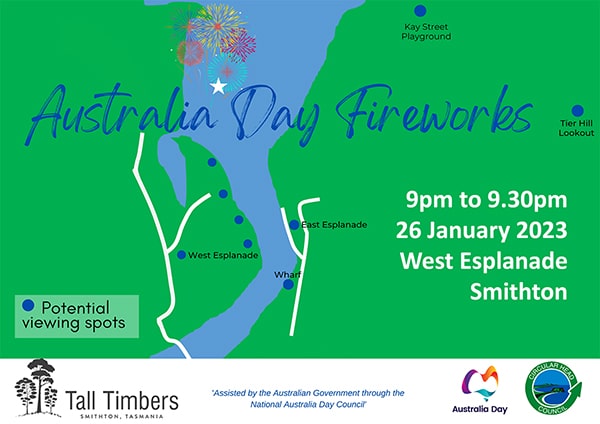 Thursday, January 26th
AUSTRALIA DAY
Beginning between 9:00 pm to 9:30 pm, weather dependant
West Esplanade Smithton
Find your spot early to get a great view of the burst of colours across the sky.
Saturday, January 29th
AUSTRALIA DAY
12:00 noon to 6:00 pm
West Esplanade Smithton

Gold coin entry
Australia day trading hours
Thursday, January 26th
AUSTRALIA DAY
Bars / Gaming
12:00 noon to 9:00 pm
Thirsty Camel Bottle Shop
12:00 noon to 9:00 pm
Meals at Millers Sports Bar
12:00 noon to 8:00 pm
Meals at Kauri Bistro
6:00 pm to 8:00 pm
There will be no
Thursday members' draw
this week